Home
Destination
»
Location
Location
About Seville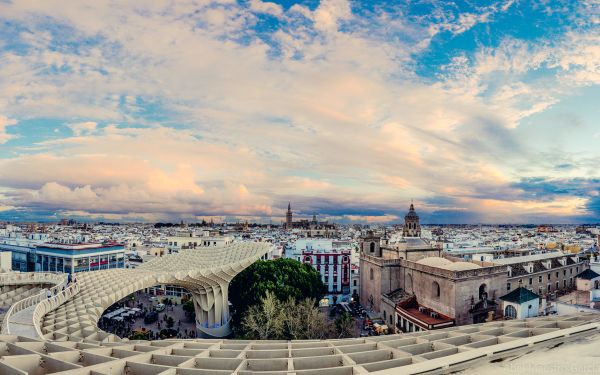 Seville, with around one million inhabitants, is the capital of Andalusia. Seville is a modern city but rich in History and magnificent buildings and monuments. The city is well provided with an International Airport, a High-Speed Train line (AVE) and a renovated highways network.

The history of Seville is that of a melting pot of cultures, with a fruitful balance of arts, sciences and commerce. Legend has it that the city was founded by Hercules, and from its foundation onwards, three thousand years of history have left a spirit of tolerance and a rich legacy of cultures as different as Phoenician, Roman, Muslim, Jewish and Christian.

The Romans initially came here to fight Hannibal's Carthaginian armies, and ended up staying for over six centuries. The period of Roman dominance left not only a language, but also numerous architectural remains. The town of Italica, built as a home for battle-weary troops, houses a Roman theatre so well preserved that it is still used for performances. It was also the town where two great emperors were born: Trajan and Adrian.

By the end of the fifth century AD, Spain had been overrun by barbarians, but it was not long before they too succumbed to Andalusia's civilizing influence, and Seville became an important city in the Visigoth Kingdom. However, in 712 Seville was suddenly engulfed in the northward push of Muslim armies. The Moorish occupation was to last for over five centuries, a period that saw the largely peaceful coexistence of Muslims, Jews and Christians.Nowadays the mark left by Islam is unmistakable: the winding streets of the city centre, houses looking inward onto a patio and the tinkle of waters in the fountains, in particular in the Santa Cruz quarter. An excellent example of the Muslim heritage is the Alcazar, a fabulous palace and gardens, in the city centre, similar to the Alhambra in Granada.

All the defenses built by the Muslims were not enough to stop the reconquest by the Christians armies initiated in the north of Spain, and in 1248 the city fell to King Ferdinand III Castilian soldiers. Now the city's patron saint (San Fernando), this king maintained a policy of religious tolerance, dividing the city into zones for each of the three faiths. Christian culture resulted also in impressive buildings: the City Hall, numerous churches and palaces and, of course, the magnificent and enormous Cathedral.

Christopher Columbus planned his expeditions in the Monastery of Santa Maria de las Cuevas, in the Isla de la Cartuja, now restored to be a Modern Art museum. Trade with the New World made Seville the richest city in Europe. However, the monopoly of trade was lost in the eighteenth century and with it the wealth, which had created scores of magnificent churches and had supported painters like Velazquez, Murillo and Zurbaran, as well as many other artists.

With the loss of the Americas, the nineteenth century was a time of decline for Spain. Nevertheless, it was precisely this mixture of orange blossom and decay that so enticed the romantics of northern Europe. They came south looking for a mystique and innocence that had been smudged out by the smoke of industrial revolution, and Seville came to represent a key venue in the Grand Tour itinerary.

Lord Byron wrote of his admiration for the city's dark-eyed damsels, some of who feature in his reworking of the traditional story of "Don Juan Tenorio".

Mozart's "Don Giovanni" is drawn from the same local legend, and his "Les Nozzes di Figaro" is also set in Seville. With Rossini's "Il Barbiere di Siviglia", Verdi's "La Forza del Destino", Beethoven's "Fidelio" and over twenty other works all based in the city, Seville can consider itself to be the opera capital of the world. This claim has recently been enhanced by the construction of a fabulous new opera house, the Maestranza, which frequently hosts productions from leading international companies.Across the river from the opera house lies the old sailors' quarter of Triana, with the beautiful Betis Street, and it was there that the gypsy chants of a girl inspired the young French writer Prosper Merimée during his stay in the 1840's. After him, Bizet, with an adaptation of the work "Carmen", created one of the most beautiful operas ever written.

If you need more information, please go to: https://www.visitasevilla.es/en


Useful Information about Spain and Seville
Currency: The Euro
Visa: No visas are necessary for people coming from EU countries staying a maximum of three months.
Emergency Numbers (dial toll-free from any phone):

Emergency services Tel: 112
Ambulance Tel: 061
Fire service Tel: 080
National Police Tel: 091 (for serious trouble)
Local Police Tel: 092 (for towns and cities)
Civil Guard Tel: 062 (for small towns and villages)

Telephone Calls: To make an international call from Spain, dial 00 and then add the country code (for instance: UK 44; USA 1; Australia 61; Canada 1; Irish Republic 353; New Zealand 64) and the rest of the telephone number. To call Spain from abroad, the country code is +34.
Business hours: The normal opening hours for shops, from Monday to Saturday, are from 10 am to 1.30 pm in the morning and from 5 pm to 8 pm in the evening. Large stores usually stay open all day, from 10 am to 10 pm. Most places are closed on Sundays. Most museums are closed on Monday and on public holidays and are open on Sunday mornings only. Hours change with the seasons.
Banking facilities: All of the Spanish and most of the international banks are represented in the city. All kind of transactions can be carried out. Banks generally open from 9 am to 2 pm from Monday to Friday, and from 9 am to 1 pm on Saturday. Hours may vary in Summer.
Taxis: Taxis are easily identified in the cities as white-painted cars with a green light on the roof that is lit when they are available. Prices are reasonable but make sure the meter is reset when you start your journey. Supplements exist for airport pick-ups, items of luggage, journeys outside of city boundaries and after 10 pm and at weekends.
Scroll